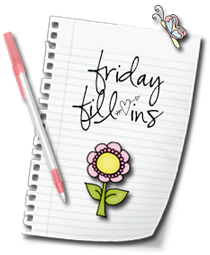 Graphic courtesy of
Tonya
!
And...here we go!
1. It's time for
me to reestablish boundries and balance my time on the computer with time for other things!
2.
The Basement
; it's not a bad place
for my craft room.I just have to make myself use it!
3. I must be
overwhelmed because I am considering dropping many online activities to get things done around here.
4.
Freedom
is the best thing I have ever known.
5. My
life
is simply
one that many envy.


6. The last time I laughed really loudly
was last night.
7. And as for the weekend, tonight I'm looking forward to
nothing really
, tomorrow my plans include
being open to spontaneity
Sunday, I want to
go bowling
!